Riots In London 2011 Essay Writing
9.15am: Good morning, and welcome to the Guardian's live reaction to the riots in Tottenham last night.
Two police cars, a bus and ­several shops were attacked and set ablaze in north London as violence and looting erupted following a protest demanding "justice" over the fatal shooting of Mark Duggan.
Eight police officers were injured during the violence, which continued into the early hours of Sunday morning.
Duggan, 29, was killed on Thursday after police stopped the minicab he was travelling in. The IPCC are investigating the incident, which also saw a police officer shot – the bullet reportedly lodging in his radio and leaving him with minor injuries.
Several colleagues were reporting from the scene of the violence in Tottenham, here's the Guardian's main news story:
Officers on horseback and others in riot gear clashed with hundreds of ­rioters armed with makeshift missiles in the centre of Tottenham after Mark Duggan, 29, a father of four, was killed on Thursday.

On Sunday morning police said there remained isolated incidents in the Tottenham area involving "a small number of people" and officers were still dealing with those situations. Eight officers were being treated in hospital, one with head injuries, following the violence overnight.

The London Fire Brigade said all fires were now "under control" after trouble spread overnight from Tottenham High Road to Tottenham Hale Retail Park and a Lidl supermarket was set on fire.

On Saturday night, rioters broke through police ranks and attempted to storm Tottenham's police station, pelting officers with bricks, bottles and eggs. As a police helicopter flew over Tottenham High Road, youths in masks and hoods added combustible material to two burned out police cars, included a bundle of documents and an awning ripped down from one of the shops. Some attempted to persuade the rioters to disperse, one young man shouting: "Go home now people."

But others filled bottles with petrol to throw at the police lines. Many lined up with makeshift weapons including metal bars and baseball bats to confront the line of police, but others seemed more interested in looting. At one stage a safe was dragged out of a book­makers, while others were seen with a television set and an electric guitar. Several arrived with shopping trollies to take away what they had stolen.

"It wasn't like this before," said one woman standing close to one of the two burned-out police cars. "It started out as a peaceful demonstration. The police shot a guy here last week and they lied about what happened. They said he pulled a gun but he wouldn't have done that with armed police. They shot him so badly that his mother could not recognise him."

A Metropolitan police spokesman said the trouble began when missiles were thrown at parked patrol cars at 8.30pm. He said one was pushed, blazing, into the middle of Tottenham High Road. Neither of the two officers who had been driving the cars was injured.

As violence spread, a double-decker bus was set upon. Witnesses said the vehicle exploded in flames after attackers threw homemade bombs through its windows. Nearby shops were also set ablaze.
Were you in Tottenham last night? Get in touch on Twitter @AdamGabbatt or share your stories below.
9.24am:This video by MriRudi on YouTube shows a building engulfed by flames. "Apparently this is a jeweller's store," someone is heard saying on the footage. An alarm can be heard sounding in the background.
Video by MriRudi
-
9.31am: Paul Lewis was reporting from Tottenham overnight and reports that "sustained looting spread from Tottenham to other nearby areas of Haringey".
By midnight police managed to secure a 200-metre stretch of the Tottenham High Road, scene of some of the worst rioting on Saturday night.

But as fire engines entered the street, and began putting out blazing cars and buildings, the rioters spread north and east through back-streets. To the north, at Tottenham Hale, Aldi supermarket was ransacked and set on fire. So too was a nearby carpet shop, causing a huge blaze.

Looters turned up with cars and shopping trolleys to carry away stolen goods. Nearby, large groups of youths congregated in the surrounding streets with sticks, bottles and hammers.

Some wore balaclava masks, preventing cars from accessing streets as buildings were broken into. Others used large rubbish bins to form burning barricades across the road.

However some of most dramatic looting took place further west, in Wood Green, and continued into the early hours of the morning.
9.42am: Some official reaction from Downing Street:
The rioting in Tottenham last night was utterly unacceptable.

There is no justification for the aggression the police and the public faced, or for the damage to property.

There is now a police investigation into the rioting and we should let that process happen.
9.48am: Paramedics treated a total of 11 people, ten of whom were taken to hospital, according to the London ambulance service.
A spokeswoman added that two of the eight injured police officers needed attention from ambulance crews, but it is not yet clear whether the other officers were dealt with by the ambulance service.
9.58am: In the comments vic15, who lives opposite Tottenham police station, has given a detailed account of their experience of the rioting.
"This wasn't just about a policing, this was about mindless violence and aggression by disaffected and alienated youth," vic15 says.
I live in Tottenham - actually I live directly opposite the main police station. This is basically what I saw. I didn't know there was going to be any demonstration and heard a bit of noise but honestly, it's quite a noisy area so didn't think anything of it. Then at about 8/8.30pm things started to get quite frightening.
We saw the police move into a line and [people] on the streets were throwing things at the police. It looked like stones and rocks although later became flaming wheelie bins and what looked to be shop fittings (my partner claims he saw a fridge being thrown or part of one).

Then we saw the cars go up in flames, they were quite near us. That's when I realised that this was getting really out of hand and the police moved around where we are and more and more kept arriving.

We saw the bus and the buildings around us go up in flames like an inferno. That was probably one of the most frightening parts. People below the flat were shouting out to the police. I can't remember their exact words but quite abusive and dismissive.

We were worried that the fires on the high street were not being tackled and they were really gutwrenching.

We didn't see much of the looting first hand because we didn't leave the property (of course) but at one point, early on, I called a friend of mine because I was scared and asked if we could come round. I wanted out of the area. She pointed out with much more clarity than me that the best thing we could do want not leave where we were. At least we were surrounded by police but it didn't feel that safe when the fires were raging down the streets.

We heard lots of dogs barking at one point and weren't sure if they were police dogs or the dogs of the rioters because the accompanying shouting was too aggressive and angry.

Then the fire engines got through and the horses and the armoured black riot vans.

It seemed to quieten down nearer to us but it seemed to volatile and I didn't sleep last night.

Last night I was so angry with people who choose this way to destroy my community. I live in Tottenham and I have been sick of the sneery ways that people regard us. Some of the 'twitter jokes' last night were really really sad and almost broke my heart with the way that some people thought this was a big joke or that Tottenham isn't 'worth saving'.

There are a lot of very good people here. The looting wasn't a part of the demonstration. People came from all over London to 'join in' and the community I live in has been ruined.
Now, beyond the anger, I'm sad, desperately sad.
This wasn't just about a policing, this was about mindless violence and aggression by disaffected and alienated youth and not just in Tottenham.
Meanwhile the people I know, the shops I visit, my neighbours have had their lives ripped apart and the community which is wracked by poverty and joblessness is further labeled and further disadvantaged.
I don't want people to think that Tottenham is a hopeless place. It is my home and my community and I love living here but I really truly despise people who have destroyed it.
10.12am: Tottenham MP David Lammy:
@DavidLammy In n17 withs Nims Obunge, classford Stirling and Sharon grant. Devastating scenes.
10.35am: Google map showing the scene of some of the fires and looting in the early hours of this morning. Click on the blaze icons for more information.
View Tottenham riots 6 August 2011 in a larger map
We'd like to carry on adding to the map throughout the day to try and get a fuller picture of what happened and where. If you witnessed something that might be worth adding get in touch on Twitter @AdamGabbatt, or email adam.gabbatt@guardian.co.uk
10.46am: Awaiting a statement from Commander Adrian Hanstock, of Metropolitan police. Will bring it as it happens.
10.50am: As the map shows, the violence and looting was not confined to Tottenham – spreading to Wood Green, some two miles west.
Paul Lewis was reporting from the scene4am:
There was still no police presence at Wood Green high street at 4am, even after dozens of stores had been smashed and raided, setting of multiple alarms.

Around 100 youths sprinted around the highstreet, targeting game shops, electrical stores and high-street clothe chains such as H & M.

Glass windows were smashed and the looters, mostly young men masking their faces, swarmed in.

They emerged with handfuls of stolen goods. "I've got loads of G-Star," said one teenager, emerging from a clothes shop. Others came out clasping shopping bags stuffed with goods.

Three teenagers ran down the street with suitcases filled with stolen clothes. Around ten young men stood outside a smouldering Carphone Warehouse, the windows smashed. The theft was casual and brazen, with looters peering into broken shop windows to see if items of value remained.

There were shocking scenes in the suburban back-streets, where residential front-gardens were used to frantically sort and swap stolen goods.

A teenage boy, who looked aged around 14, drove an stolen minicab erratically down a side-street. On the adjacent street, a man who emerged from his home to find his car burnt-out remonstrated with other young men, who ran past carrying clothes.

Passersby, including people returning home in the early hours from nights out, were stunned to discover the lawless mayhem on the streets.

With no sign of any police, buses refused to take passengers through Wood Green high street, and traffic was brought to a standstill.
10.57am: Here's a Storify hosting some pictures of the damage. As with the map, please get in touch if you've spotted any photographs from this morning.
-
11.08am: David Lammy is speaking "a community that was already hurting has now had the heart ripped out of it," he says.
The community was "smashed" by "mindless, mindless people, many of whom were not from Tottenham". Lammy says people came from miles and miles away to loot and join in the violence.
The Tottenham MP points out that "we don't know if there are fatalities" – there could have been people in the burned out buildings.
Lammy says there are questions concerning the policing that led to the protest becoming violent. He says it took many hours before we "saw the kind of policing that I think is appropriate".
11.16am: Commander Adrian Hanstock, Met police, is speaking from Scotland Yard.
Last night's events were "absolutely unacceptable" he says.
The death of Mark Duggan was "extremely regrettable". Last night's peaceful demonstration was hijacked by a "small number of criminal element".
The looting was "absolutely unacceptable". Police are working today to restore a sense of calm to the community.
That was the extent of the statement. Now Hanstock is taking questions.
11.20am: "Preparation was in place" at the peaceful protest, Hanstock says.
Police intelligence was that the protest would be peaceful. He says the violence was "extreme" and "could not be anticipated".
On the basis of the information they knew they decided not to have a large-scale police presence.
11.26am: There are 42 people in custody, Hanstock says.
Were police slow to respond, he is asked?
"No not at all," he says, but adds: "Bear in mind this was midnight on a Sunday."
Is he confident police will not find any bodies at the scene of the fires?
"The day will unfold as we go ahead," apparently.
Hanstock says police "deployed people appropriately".
There will be an increased police presence in the streets today.
11.37am:This video appears to show looting taking place in Wood Green in the early hours of this morning. Nzflapper, who shot the footage, says it was at around 5.40am.
At about 1 minute in it looks as if a couple of people are leaving H&M with a haul of goods, and at 1.46 a number of people are stood around JD sports.
Vikram Dodd, who was reporting from Wood Green, says if the time the video was shot is accurate then looting was ongoing in the area for three hours.
12.06pm: Blog reader Fran has emailed with her account of last night's events. She says she was told by police that they did not have the resources to send people out to Tottenham Hale retail park and quell the looting.
I live in one of the roads off Broad Lane, opposite the retail park. There were young men running up and down the street in the early hours of the morning, carrying boxes and pushing trolleys loaded with loot. Our road is now littered with empty boxes, security tags and coathangers.

I went over to the retail park just before 0600 - young people were going in and out of JD Sports, arms loaded with shoes and clothes. At least two cars parked in my road had open boots, with looted gear being placed inside. A neighbour told me that Carphone Warehouse was stripped bare. The police turned up in force at around 0615. When I rang them earlier, they said they didn't have enough resources to send anyone.

A bit later I returned and an officer from Surrey was securing Comet. He said several of his people had been injured. The manager of Asda said his shop had escaped looting, but another neighbour told me an hour later that looters had got into Asda at the back, and all the retail park shops have been hit.
12.17pm: Full statement from Commander Adrian Hanstock, Met police. Two officers remain in hospital.
Last night's disorder and violence in Tottenham is completely unacceptable. The behaviour by a criminal minority put police officers, fire brigade personnel and the public at significant risk.

The death of Mr. Duggan is extremely regrettable and will be the subject of an independent investigation by the IPCC. It is absolutely tragic that someone has died, but that does not give a criminal minority the right to destroy businesses and people livelihoods and steal from their local community.

There was no indication that the protest would deteriorate into the levels of criminal and violent disorder that we saw. We believe that certain elements, who were not involved with the vigil, took the opportunity to commit disorder and physically attack police officers,
verbally abuse fire brigade personnel and destroy vehicles and buildings. We do not believe that this is something that the vast majority of law abiding citizens in Tottenham would condone or would want.

As the disorder developed, we immediately deployed, but such was the level of violence against police officers that we were also supported by officers from surrounding forces, as is in line with our planned contingency as would be expected for such a significant incident.

Our officers were subjected to bottles, petrol bombs and other missiles being thrown at them.

Our priority will always be to try to preserve life, with the numbers of people on the street and violence being directed at the police and fire service this had to remain our priority. We are aware that a number of shops were looted and this is very regrettable. We are very aware of how disruptive and costly this will be for large and small businesses and the negative impact on the local community.

We have recovered excellent CCTV and those who committed disorder and criminal acts will be identified and held account for their actions. We would appeal to anyone who has information about those who may have been involved in the disorder to contact police.

As a result of last night's disorder 26 police officers were injured, two remain in hospital. There have been 42 arrests so far for offences including violent disorder, burglary and theft.
12.20pm: My colleague Jason Rodrigues files this report on last night's events:
I cycled down to Tottenham at 5am today and couldn't initially get through the police line blocking the High Road, so I went to see what was happening at the local retail park. Before I turned into the park, I saw a group of five teenagers, perhaps even younger, casually pushing a trolley full of clothes and trainers down the main street. None of them tried to cover their faces and they even laughed at a passing motorist who tried to take a picture of them using her camera phone.

In the retail park many of the shops had their windows smashed in and the ground was littered with discarded packaging, hangers and broken glass. The police must have just arrived as at least three men in their 20's were handcuffed and sat in front of PC World. Another officer was nervously stood outside JD sport poised to use her truncheon as her colleagues had just gone through the back of the store in an attempt to flush out more looters who, according to a local man, were still ransacking the shop .

I then cycled back towards the High Road, this time along a side street which got me behind the police line. On the High Road, I saw the burnt out wreck of what I think was a police car, which was still smouldering, it's wheels burnt down to the rims. Some police officers were coming off their shift and were just as staggered as the local shopkeepers by the scale of the destruction when seen in the light of day - some officers even had their iphones out and were taking pictures of the burnt out car.

Went I left at 6am I saw several heavily armoured blue police cars parked outside the main police station and more police vans arriving, some from Kent.
12.35pm: An anonymous reader has sent this account from Tottenham last night.
I was on the high road between 8.30pm-11.30pm.

I arrived after the police cars were on fire.

With that said things were reasonably calm - stand off

It became violent and escalated after a police officer hit a women with a baton.

She was v. distress and was running back into the crowd after being near the police line.

This angered the crowd and they proceeded to throw rocks bottle etc...

Regarding the bus - it was just the driven on the bus - he drove right it into the crowd - therefore had to stop - people got on the bus - the driver walked off with no trouble and took the keys with him. people asked for the keys but driver said no - no one challanged him
Were you there and can you corroborate this account? Other reports have also suggested the violence began after a woman was involved with police. Email adam.gabbatt@guardian.co.uk
12.43pm: I've updated our Google map of the looting and violence with the help of reader Sam Wass. View it below or here.
12.51pm: Lynne Featherstone, MP for Hornsey and Wood Green and home office minister, is giving a statement.
"I want to thank those police officers and those commanders who put themselves in harm's way," she says.
Featherstone wants to send a "very clear message to anyone out there intent on causing harm".
The message is: "You will face the full force of the law."
1.06pm: Time for a bit of a summary:

• Looting continued in Wood Green until at least 5.30am this morning as police struggled to deal with the protests. Violence had earlier spilled out from Tottenham.
• The looting was brought under control earlier in Tottenham, with police taking control of parts of Tottenham Hale by around 1am, according to reports, although other reports have suggested some looting was continuing at the Tottenham Hale retail park much later.
• Some 42 people have been arrested, while 26 police officers were injured during the riots. Two remain in hospital. Police were unable to say whether there were fatalities overnight.
• Tottenham MP David Lammy has said the riots were "a disgrace", while the Met police said the events were "absolutely unacceptable". Downing Street also used the term "absolutely unacceptable".
• Some reports are suggesting an altercation between a female and police may have sparked wider violence.
1.14pm: Tweets:

@PaulieTandoori @AdamGabbatt here's some photos I took last night http://bit.ly/quh8BC #tottenham
@ogunte @adamgabbatt http://flic.kr/p/aaGwBa #tottenhamriots #thedayafter
1.18pm:Here's a gallery of images from Tottenham.
2.02pm: My colleague Sandra Laville has spoken to Semone Wilson, the fiancee of Mark Duggan.
Wilson told the Guardian her family were waiting to meet the IPCC commissioner Rachel Cerfontyne.

She said: "When we were outside the police station last night we wanted someone to come out. We want some answers. I have not even told my children that he is dead because we cannot give them any answers."

Ms Wilson said someone did emerge from the police station at one point during the family's vigil on Saturday evening. "They said they did not have any answers because it was out of their hands now."

She said the IPCC had contacted them today and she was due to meet the commissioner in charge of the independent inquiry into Duggan's fatal shooting later today.
commenting on the violence which erupted last night and this morning, Wilson said: "I am not happy about what has happened. What we wanted was answers. We didn't want this trouble. We wanted some answers."
2.28pm: The Hackney One carnival has been cancelled in the wake of last night's events. Blogs editor Matt Wells has this:
There was due to be a parade through Dalston and Stoke Newington, ending with a music festival in Clissold Park. Cancelled apparently on police advice. There's talk that there'd been chat on Facebook about using the event to stir up trouble.
2.44pm: Returning to the reports a girl was involved in an altercation with police – here an eyewitness tells the BBC that a female was "set upon" by police. It was subsequently discovered she was 16, the witness says, which provoked a surge forward in her defence by people at the scene.
-
3.02pm: The girl who reportedly was involved in causing the violence between police and protesters may have thrown a stone at police.
One man "holed up in a church 10 metres away from the Tottenham riot". He told the Guardian that he saw the girl "throw some card and something else, maybe a stone, at the original riot police line".
He said the girl was then "pounded by 15 riot shields". He said that the police "launched into her with startling force using both batons and shields. She went down on the floor but once she managed to get up she was hit again before being half-dragged away by her friend."
He added: "After she was removed there were a few minutes of peace and then lots of glass bottles started being thrown, we could hear them."
Bailey had been attending an event at the church, which he said is opposite the police station in Tottenham.
"I have never been so scared and intrigued," he said. "On the way out we were mere streets away from the mass fire, it was like 25 meters high and seemed to be like a mile wide."
3.37pm: Quote courtesy of PA that I missed earlier – Paul Deller from the Metropolitan Police Federation said:
Morale among the police officers dealing with this incident, and within the Police Service as a whole, is at its lowest level ever due to the constant attacks on them by the home secretary and the government in the form of the Winsor and Hutton reviews into police pay and conditions.

Despite the officers feeling let down by their political leaders, they still acted with extreme bravery and professionalism in the face of horrific violence shown towards them while trying to protect the community and the buildings in the local area.
4.20pm:This footage shared with the Guardian by Jason N Parkinson shows police efforts to contain violence over night.
-
4.41pm: The Metroplitan police have spoken of their concern over posts on social networking sites relating to potential problems in north London this evening.
Commander Adrian Hanstock said police had been monitoring social networking sites throughout the day and were conscious of "some really ill informed speculation" relating to potential further problems.
"I would encourage people to look for official Metropolitan Police websites and appeal to people who have information about crimes last night or anyone intending to commit further criminality today to let us know so we can protect the community," he said.
He said it was clear that the community "absolutely resent the intrusion into their lives and damage to their livelihoods".
Hanstock said it was an "enormous" crime scene which would take some time to work through.
"We recognise the huge disruption this has made there, we will be working closely with key people to open that scene as quickly as we can, but we need to maximise our opportunity to search the area and make it safe."
4.56pm: Separately Shaun Hall, Mark Duggan's older brother, has said the family did not condone the violence, my colleague Caroline Davies reports.
Hall told Sky News:
We are devastated at the loss of our brother, our son, our cousin, our friend. He's got a vast amount of friends. We are all devastated to hear about the mishap.

We don't actually know what has actually happened. I suppose that's what is the most gruelling thing for us at the moment, nobody has actually come forward and told us this is what has taken place . Whether we believe what they are saying or whether we don't, they should be somebody here putting my parents' mind at rest about what is actually going on.

The whole family is devastated. We don't want Mark protrayed as some kind of gangster. He's a family man.
Of the allegation that a police officer was shot at, when Duggan was killed on Thursday, Hall said:
"I think it's rubbish. Mark's not that sort of person. He's not stupid to shoot after police, that's ridiculous."
On the riots in Tottenham, he said:
We're not condoning any kind of actions like that at all, or for this to be taken in my brother's name. I've been listening to a lot of the news today where it seems to be the press who are generally saying that it is linked to my brother. OK, there was some questions were supposed to have been answered that weren't answered, therefore there was a domino effect from that, which we don't condone at all.
Asked if he had a message for the community, Hall said:
I know people are frustrated, they are angry out there at the moment. I would say please try and hold it down and please don't make this a bearing on my brother's life. My brother was a good man.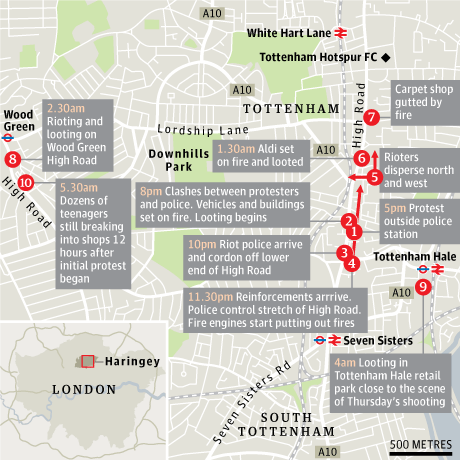 -
5.11pm: Police have set up a major investigation team following last night's violence - codenamed Operation Withern.
In a statement the Met said the team is being led by Detective Superintendent John Sweeney.
The team is currently dealing with the 48 people who were arrested during the course of the disorder.

Officers are in the process of reviewing hours of CCTV and taking witness statements. There is a primary crime scene that runs from Monument Way to Lansdowne Road. Detectives are on the scene scoping out the number of buildings and businesses broken into and damaged. This will take some time, and we cannot currently estimate how long.
5.04pm:Graphic showing where and when the clashes and looting occurred:
5.17pm: The Met have also said that the total number of arrests is now 48.
In a statement Commander Adrian Hanstock said this was not because there have been new arrests, but "the rise from 42 to 48 is because the Investigation Team has now collated the exact details from the numerous custody suites in London".
5.27pm: Sandra Laville, the Guardian's crime correspondent, reports that reinforcements from Thames Valley, Essex, Surrey, City of London and Kent police forces have been called in tonight to prevent a repeat of the violence.
5.35pm: The Guardian's Datablog has launched an online survey in a bid to understand last night's riots in greater detail. My colleague James Ball writes:
Thanks to live reporting and tweeting from reporters and eyewitnesses on the ground, a clear picture of what happened, and its aftermath, is rapidly emerging. What will take longer to emerge, however, is any sense as to why these riots – predicted by virtually no one – took place. Theories aplenty are circulating social media, and soon will be followed by commentators in the paper setting out what the riots mean in the UK's wider social context.

However, the only people who can really shed light on why the riots took place are those who rioted, their friends, families and neighbours.

...

Given that many protesters were said to be carrying smartphones and taking to social media, we are asking the same questions online. While this can only generate anecdotal information (and the plural of anecdote is not data), we're hoping it will help inform and expand our reporting.
You can find the full Datablog survey here.
6.50pm: Good evening. This is Ben Quinn taking over the blog from Adam.
Follow me on Twitter @BenQuinn75 or pass on stories by emailing ben.quinn@guardian.co.uk
6.52pm: London's Mayor, Boris Johnson, has been coming under pressure to end his holiday and return to London.

However, he told BBC news in a phone interview in the past hour: "I am not going to come back at the moment because I have complete confidence n the police and I think that they are doing a very very good job."
Asked about the police handling of events, he replied: "Of course people will do a big post mortem now and of course there is going to be a big examination of what police done and what they could have done but I just want to stress, and there may be indeed questions to be asked about whether the police acted swiftly enough and all that kind of thing. Those are legitimate questions.
"But never forget that the people who did this [rioting] were criminals and their behaviour was criminal behaviour and it was in no way justified by the questions that people are asking about Mark Duggan"
"The damage that is being suffered by communities, by shopkeeprs, people running businesses, is frankly the last thing that part of London, that the London economy needs now."
7.02pm: There are reports coming in of disturbances in Enfield.
Tarah Welsh, a BBC reporter visiting her family in London, has been tweeting she has seen a number of people throwing concrete slabs through shop windows.

She tweets:

I can see 15 riot vans so far, police have cordoned off high rd, most residents stuck in homes.
7.17pm: Vikram Dodd of the Guardian tweets:

#tottenham Police confirm shop windows smashed in #Enfield hi st, two so far and officers attending as of 6.30pm
7.27pm: My colleague Matt Taylor is on the ground in Brixton, where there was unconfirmed rumours of disturbances earlier.
He says that there are thousands of people on the streets, many of whom have been attendingf ththe Brixton 'Splash' festival.
Matt adds that police have told him there was some minor trouble earlier. There is a reasonably strong police presence.

7.35pm: Initial ballistics tests on the bullet that lodged in a police officer's radio when Mark Duggan died on Thursday night show it was a police issue bullet, the Guardian understands.
The Guardian's crime correspondent, Sandra Laville, reports:

The revelation will fuel the fury in Tottenham about the killing of Mark Duggan by armed officers.

It also undermines suggestions that there was an exchange of fire between Duggan and the police before he died.

The bullet which was found lodged in the radio of one of the officers at the scene is still undergoing forensic tests. But reliable sources have said the first ballistics examinations suggested it was a police issue bullet.

These are very distinct as the Metropolitan Police uses dum dum type hollowed out bullets designed not to pass through an object.

The early suggestion from the IPCC was that the Met officers had returned fire after someone in the minicab opened fire. But the result of the ballistics early test suggests both shots fired came from the police.
7.40pm: Scotland Yard have now said that a total of 55 arrests have been made since the start of last night's disturbances in Tottenham - 51 last night and four today.
The majority were for burglary, and other offences included violent disorder, robbery, theft and handling stolen goods.
7.41pm: Youths vandalised a police car and smashed two windows on Enfield High Street, the Press Association reports.
Police were called at 6.38pm and officers are on the scene dealing with the disturbance, Scotland Yard said.
7.49pm: Back in Enfield, Tarah Welsh has tweeted a pic of police in riot gear on the streets. Police reinforcements have been sent to the area.
7.56pm: The Guardian's Paul Lewis is on the way to Enfield. He tweets:

Caution re: #Enfield. Clearly some disturbances, but presence of riot polices does not always=riot
8.00pm: These pictures are unconfirmed also, but they are said to have come in from Enfield.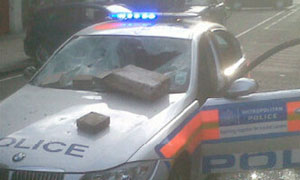 This is one of a vandalised police car:
_
8.06pm: Pastor Nims Obunge, who is supporting Mark Duggan's family, has been giving a reaction to the news reported here earlier that initial ballistics tests on the bullet that lodged in a police officer's radio was a police issue bullet.
He told Vikram Dodd of the Guardian: "If it was a police issue bullet in the radio, that would instigate a lot more concerns."
Obunge said that he and Duggan's family had seen the IPCC this afternoon, and had asked about the community rumours that the bullet recovered from an officer was a police issue one, but were not told that it was.
8.20pm:Paul Lewis of the Guardian has taken this pic of police outside Enfield train station.
He tweets:
about 20 TSG riot police guarding Enfield Town station + 200 young people lingering, some masked #Enfield
8.28pm: David Lammy, the Labour MP for Tottenham, has written a piece for the Guardian on the lessons from the last time that there was violent unrest in his area on the scale witnessed in Tottenham over this weekend.
He remembers the riots on the Broadwater Farm housing estate, which were triggered by the death of Cynthia Jarrett:
As in 1985, the only way to begin the healing process is to get to the truth. There was an inquest into the death of Cynthia Jarrett and we must get to the bottom of what happened during the police operation on Thursday night.

The Independent Police Complaints Commission did not exist to oversee justice then; it must prove its worth now. An investigation is already under way. People need to know when they can expect it to be completed and how much of the evidence it sees will be put in the public domain.

Those with power in the Metropolitan police will also have questions to answer about the handling of the disturbances.

Many residents feel that the response was too slow and that the situation was allowed to escalate too easily. With eight police officers hospitalised, those questions take on even more gravity.
8.54pm: Scotland Yard said it had an operation in place across the capital tonight, with " high visibility" patrols being carried out, the Press Association reports:
Additional officers will be stationed in Tottenham throughout the night. Community leaders from the area came to New Scotland Yard today to give their feedback on policing operations.

Met Commander Christine Jones said: "We do have extra resources out tonight on duty across the capital. We are carefully monitoring any intelligence and ensuring we have our resources in the right places. No one wants to see a repeat of the scenes that we witnessed last night in Tottenham.

"Our investigation team is continuing its work and those people responsible for the violence, disorder and crime we saw last night will be identified. Anyone else who thinks they can use the events from last night as an excuse to commit crime will be met by a robust response from us."
8.56pm: The Guardian's Paul Lewis has been witnessing serious clashes over the past half an hour in Enfield, where it appeared to quieter earlier after some initial, minor, disturbances.
Police reacted with dogs and baton attacks after around 200 young people broke into jewellery store but were unable to intervene when a chemist was ransacked at another location.
9.00pm: The Independent Police Complaints Commission has issued a statement:
We await further forensic analysis to enable us to have a fuller and more comprehensive account of what shots were discharged, the sequence of events and what exactly happened. In the meantime we would request people are patient while we seek to find answers to the questions raised by this incident.‬
9.03pm: IPCC Commissioner Rachel Cerfontyne was speaking earlier. She said she had spent most of today meeting Mark Duggan's relatives and members of the community. The Press Association has this:
She said: "Mark Duggan's family and the community in Tottenham need answers about what happened to him - and we will investigate independently, thoroughly and robustly so that we can give them answers."

She said that the investigation into his death remains "her priority".
Ms Cerfontyne said: "As an IPCC Commissioner I cannot ever have worked for the police and am entirely independent of them. My role is to oversee the investigation - which must also support the family, and address the concerns expressed by the community. To help me I have established a community reference group to ensure I am sensitive and responsive to those concerns."

She also expressed regret at accusations Mr Duggan's family had not received adequate support.

"I know there are concerns that we have not provided enough support to the family in the first days - and I am very sorry if anyone should feel that. Our investigators in fact made contact with the family on Friday, met them yesterday and I have met them today. I have spoken to Mark's mother today who told me she did not want to meet yet but would do so in the coming days.

"Over the coming hours we will be interviewing key witnesses including firearms officers who attended the scene as well as independent witnesses. Whilst the investigation is at such a critical stage I cannot give out further bits of information until we have proven what is fact and what is rumour. There are however a number of things I would like to address.

"Speculation that Mark Duggan was 'assassinated' in an execution style involving a number of shots to the head are categorically untrue. Following the formal identification of the body Mr Duggan's family know that this is not the case and I would ask anyone reporting this to be aware of its inaccuracy and its inflammatory nature."
9.10pm: The Guardian's Matt Taylor reports from Brixton:
In Brixton the mood among the hundreds of people still on the streets threatened to turn ugly earlier when a young man was bundled to the ground and arrested by police who arrived on the High st in three vans.

The man was chased and dragged to the ground drawing an angry reaction among those
still on the streets to celebrate the Splash festival.

Hundreds gathered round as the police bundled the suspect into the back of the van with one man asking " have you learnt nothing from Tottenham?" The atmosphere is calm again now.

One witness, Sarah Moulden, told the Guardian earlier in the evening that she has seen at least 15 riot police charging down the street as she cowered under a car watching several dozen young men throwing bottles at each other on Coldharbour Lane.

"There were a number of cars stuck there in the middle of the road trying to manoeuvre out of this, with bottles hitting them directly on their door and side windows."
9.14pm: The Guardian's Paul Lewis has filed this from the scene of another outbreak of disorder in Enfield:
Around 100 mainly teenagers were stood by the station, which was being guarded by riot police. In unison they all started moving, toward Church Street.

There must have been more than 20 who smashed a jewellery store and entered. They scarpered less than a minute later, when riot police charged in. There were chaotic scenes as the crowd was charged by police striking with batons. Around 20 dog handlers were on the scene. "Get back. You'll get bitten. Get back." In the melee I saw bystanders get hit.

Five minutes later a betting shop and pharmacy further down the road were smashed. Police horses are now in the town centre, which has a heavy police presence. In contrast to last night in Tottenham, where I saw police completely lose control, here the sheer number of officers mean they are responding quicker to the violence. But the young people - mostly men - are just melting into sidestreets and then reappearing.

I've seen the first real heartfelt opposition to the disturbances too: a woman, aged about 20, in tears shouting: "What are you doing? Is this how you pay your respects to Mark? Is this what he would have wanted."
9.40pm: Here is a snatch of tomorrow's front page Guardian story, by Sandra Laville, Paul Lewis, Vikram Dodd and Caroline Davies:
Doubts have emerged over whether Mark Duggan, whose death sparked the weekend's Tottenham riots, was shot in an exchange of fire with police as fresh violence broke out in London.

The Guardian understands that initial ballistics tests on a bullet, found lodged in a police radio worn by an officer during Thursday's incident, suggested it was police issue – and therefore had not been fired by Duggan.

The revelation came as trouble erupted in Enfield, north London, with a police car being vandalised and windows smashed in its high street.

On Saturday night 26 police officers were injured, eight requiring hospital treatment, in clashes with around 300 rioters in Tottenham which saw buildings and vehicles torched, shops looted and residents forced to flee their burning homes.

Police have arrested 55 people as a major investigation began into the terrifying and swift escalation of violence, which followed a peaceful demonstration to demand "justice" for Duggan, 29, a father-of-four shot dead on Thursday evening after being stopped in a taxi near Tottenham Hale. The Independent Police Complaints Commission (IPCC) has launched an inquiry into the shooting.
9.48pm: Here is another take from Sandra Laville, the Guardian's Crime correspondent, on her earlier report about the events surrounding the Mark Duggan's death:

The fatal shooting of Mark Duggan, which sparked the Tottenham riots took a dramatic twist with the revelation that there may not have been any exchange of fire during his arrest.

Initial reports from the Independent police complaints commission were that during an apparent exchange of fire police officers from C019 fired two shots which killed Duggan. The suggestion was that officers could have come under fire from the minicab carrying Duggan on Thursday night.

Much of this assumption came from the fact that a bullet had lodged in a police radio worn by an officer at the scene – raising speculation he might have been fired at from the vehicle. A non police issue handgun was also recovered at the scene where Duggan was shot dead in Ferry Road.

But the Guardian understands that initial ballistics tests on the bullet lodged in the officer's radio show that it was a police issued bullet – and had not therefore been fired by Duggan or anyone else in the area.

The reveleation comes as one community leader suggested that the handgun recovered was found in a sock and therefore not ready for use.

It is likely to fuel anger on the streets of Tottenham and elsewhere in London as it provides evidence that officers were not under attack at the time they opened fire on Duggan.
9.52pm:Billy Kenber of The Times is also on the ground in Enfield. He tweets:

Group of about 25 youths have been surrounded by police officers and are being lead away 'for contd http://twitpic.com/62lxfb
10.04pm: There is mounting evidence that the rioting in north London has been part of an orchestrated plan of disturbance, according to the Guardian's Paul Lewis:
As violent disturbances broke out in Enfield Town, some six miles north of the riots in Tottenham, there were scenes reminiscent of what happened last night, although on a smaller scale.the suburb from 7pm.

Teenagers gathered on St Andrews Road - said to have been a pre-planned destination - breaking down walls on terraced streets to collect bricks to throw at police.

Around a dozen shops were ransacked and police car smashed on Church Street. Riot police moved in to secure the area and train station. Shortly after 8.30pm a crowd of around 100 mainly teenage boys moved in unison to target a jewellery store.

Within seconds dozens had got into the store, running away less than a minute later when police arrived. Chaotic scenes ensued, with a number of people struck with batons and
attacked by dogs.

Resident Mizu Rahman, 34, said a plain clothes police officer had told him earlier in the day, around 2pm, that there was intelligence disorder was imminent.

"The police officer came down the street warning us there would be trouble," he said.
"He showed me is ID. He said: do you live here? I said yes. He said "bear in mind St Andrews Road is going to be the front-line tonight."

There was no obvious reason why the rioting should have spread to Enfield Town, which is in the outskirts of north London.

Rahman, an engineer, said he had seen already seen a message on Facebook earlier in that Enfield would be "next on the hitlist".

At 9.30pm, Met police and reinforcements from Kent began turning the whole of Enfield town into a sterile area. Hundreds of riot police flooded the area with vans and police dogs, charging at groups of teenagers who melted into side-streets.

They smashed cars and shop windows as they ran. Amid evidence that locals were turning against the rioters, one woman, aged about 20, was in tears shouting: "What are you doing? Is this how you pay your respects to Mark? Is this what he would have wanted."
10.11pm: Here is a picture that Paul Lewis sent in earlier of police in riot gear near a vandalised police car in Enfield.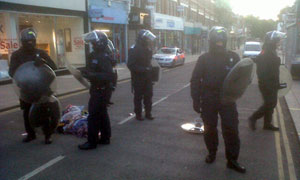 Riot police in Enfield near a vandalised police car. Photograph: Paul Lewis
__
10.29pm: The weekend's violence and looting in north London is reminiscent of 1980s inner city unrest, writes Maev Kennedy:
Images of blackened skeletons of burnt-out buildings and streets littered with the charred debris of a night of violence and looting will be familiar to anyone who lived through the riots that left a trail of destruction across inner cities in the 1980s, sparking a lasting debate about policing and social integration in Britain.

The allegations and counter-allegations of teenagers and the authorities about heavy-handed or incompetent policing are also reminiscent of 30 years ago.

Aftermath of the Toxteth Riots, 1981 Photograph: Goff Tinsley

The sequence of events in Tottenham at the weekend has many echoes of the Toxteth riots in Liverpool of 1981, as well as unrest in Tottenham itself in 1985 and other incidents of unrest that decade: a local flashpoint in a deprived urban area, the rapid escalation of a local protest into mayhem as others pile into the area – and long summer nights.

The television producer and commentator David Akinsanya was in Tottenham in the early hours of Sunday morning. He also covered some of the 1980s riots as a reporter.

He said: "There are and there aren't similarities between what happened and earlier riots. In those days as a black youth you could be walking down the street, the police would bundle you into a van and nobody would see you for three days. That doesn't happen now. The black community is asking the police to get on top of gun crime, that's another change.
10.40pm: Political commentator Gaby Hinsliff tweets:

#tottenham now clearly shaping police reform debate. cops in my timeline suggesting riots mean you cant cut manpower/pay/pensions etc now...
10.55pm: 'Police and the Riot Blunders' is the front page headline in Monday's Daily Mail.
It reports that London endured a second night of rioting as questions were raised about the shooting of Mark Duggan. It adds that a senior Met officer also flew off on holidays "hours before mayhem".
(Link via @suttonnick)
11.07pm: The leader of Enfield Council, Doug Taylor, has been telling Sky News that Enfield has its share of problems relating to urban deprivation.
"Like many boroughs we have difficulties, but this this way beyond the norm. There is no proper explanation, no mitigation for what occurred here," he added.
While adding that the police were "doing a tremendous job" he said that one of the problems was that they also had to keep an eye on Tottenham, while having "an idea" that there could be trouble in Enfield.
11.20pm: Paul Lewis tweets:

This is orchestrated. Teenagers on the streets saying there has long been "a plan" to be at #EdmontonGreen at midnight.
11.31pm: David Cameron was among among politicians denouncing violence in north London while local MP called riots an attack on ordinary people, writes Andrew Sparrow in a wrap-up of political reaction:
But Ken Livingstone, Labour's mayoral candidate, struck a different note, suggesting that the government did bear some responsibility for what had happened.

There was a "growing social dislocation in London", he said in a post on the website LabourList. "The economic stagnation and cuts being imposed by the Tory government inevitably create social division."

While stressing that there was "no justification" for violence, Livingstone also said it was "pure hypocrisy" for Tories to urge people to support the police when the government was actually cutting police numbers.

The London mayor, Boris Johnson, said: "I'm appalled at the scenes of violence and destruction in Tottenham. The events leading to these disturbances are rightly being investigated by the IPCC [Independent Police Complaints Commission]. Harming people and property will do nothing to facilitate the investigation – it will only make the situation worse."
11.40pm: There have been disturbances over the course of at least the past half an hour in Brixton.

Andrew Hough of the Daily Telegraph tweets from the scene:

At least 200 youths pelting stones + bottles @ police. Businesses told to shut up shop. 2 different cordons #Brixton #riots #London
11.53pm: The often-voiced hypothesis that 'outsiders' are to blame for riots such as those in Tottenham and Enfield is questioned in this blog post by Sean Carey, a specialist in social and cultural anthropology and Guardian contributor.

In the UK in the early 1980s, people often thought that "outsiders" were responsible for disorders simply because a large crowd would gather when there was an incident which then developed into a riot.

Commentators put two and two together and reasoned that the rioters could not all have been local. But research I was involved in strongly suggested that the people who were present on the streets at the time rarely came from outside the area, especially on the first night of disorder.

Indeed, my investigation into the relationship between how different ethnic groups in different parts of London used streets and other public spaces in the mid-1980s made it apparent that loud police sirens often drew local people, who were in their homes, places of work or out shopping on to the streets, to find out what all the fuss was about.

Of course, the presence of people on the streets or other public spaces does not necessarily lead to rioting.

However, throw into the mix grievances about how the police was mistreating people from identifiable groups — particularly minority ethnic groups from which the police service did not recruit members and especially in areas of high unemployment and social deprivation with relatively weak grassroots political leadership — and there was a high risk of a riot breaking out.
12.03am: Preliminary ballistics tests are understood to show that a police officer fired two bullets during the operation to arrest Mr Duggan last week, report Sean O'Neill and Fiona hamilton in The Times (paywall):
One killed him and the other lodged itself in the radio of another policeman who was lucky to escape injury.

Mr Duggan was armed at the time but it is not clear whether he ever opened fire or even drew his weapon when police stopped him last Thursday.

Extensive testing on Mr Duggan's gun, the police weapons and recovered bullets is continuing in an attempt to establish the sequence of events leading to his death.
12.07am: Parallels with the Broadwater Farm riots are flawed, writes Andrew Gilligan in the Daily Telegraph:
The world has changed dramatically between 1985 and now. Then, the [Metropolitan Polce] force's racism was unashamed and routine. Now, a single racist remark can end an officer's career.

Then, the Met had 180 ethnic minority officers. Now, it has about 3,000. Relations between black people and the force have got better, and conditions in many parts of Tottenham have improved dramatically.

In the third quarter of 1985, Broadwater Farm alone had 875 burglaries. In the same quarter of 2010, there were little more than 30 – in its entire ward – and fewer than 10 on the estate itself. Tottenham's unemployment rate is just over half what it was in 1985.

Far from being a "murder", the shooting of Mark Duggan does not, on the face of it, even seem comparable to the shooting of Cherry Groce and the death of Cynthia Jarrett. Mr Duggan was known to the police – they were trying to arrest him at the time.

According to the Met, a non-police firearm was recovered from the scene and an officer's radio which "appeared to have a bullet lodged in it" was also recovered.
12.13am: Looting is going on in Brixton, unhindered by the police, according to the Guardian's Matt Taylor.
At the scene, he witnessed a couple of hundred people taking goods out of Footlocker, which has now been set on fire. Some left on bicycles while others passed it to friends in waiting cars.
A police helicopter is circling overhead while police on the ground have congregated on side street close to scene but have not yet intervened.
Those taking part in the looting are aged in their teens or early twenties.
12.29am: Walthamstow can be added to the lists of areas where there have been disturbances tonight.
A resident from there has just called the Guardian to complain that the media are not focussing on trouble there. She claimed that at a Barclays cashpoint was targeted.
Local MP Stella Creasy has been out and about assessing the situation and tweeted that twitter rumours about more serious clashes were proving untrue.
She said earlier however that trouble had been breaking out, and asked local people to steer clear of the town centre.

12.39am: Matthew Holehouse from the Telegraph tweets:

Confirmed from two witnesses: looting of sports shop in Kingsland Road shopping centre, Hackney. Gang of 30 pursued by cops.
12.46am: The Metropolitan Police tweets:

Police have not requested a #mediablackout and are continuing to provide updates
12.48am: Paul Lewis, on the ground in Enfield, says that it has started to rain there.
Earlier, he saw a man receiving medical attention after apparently being stabbed.
1.42am: Here is some (unconfirmed) video footage of looting taking place earlier in Brixton, via Paraic O'Brien from the BBC:
Source: Paraic O'Brien
_
1.52am: Matt Taylor in Brixon reports that the primary focus of police attention is on the Currys near Brixton centre, where a couple of hundred people have broken in and have been helping themselves to the electronic goods.
A stand-off with lines of police is taking place while the ground is littered with debris.

2.00am: Here is a summary of events over the course of today and this evening:
• A second night of street clashes and looting has taken place around London. Police in riot gear were deployed across the city to deal with trouble in Enfield, six miles north of the site of riots in Tottenham, while looters later pillaged shops in Brixton.
• There was mounting evidence on Sunday night that some of the second night of rioting in London was part of an orchestrated plan, as violent disturbances broke out sporadically across parts of the capital.
• Doubts have emerged over whether Mark Duggan, whose death at the hands of police sparked the weekend's Tottenham riots, was killed during an exchange of fire. The Guardian understands that initial ballistics tests on a bullet, found lodged in a police radio worn by an officer during Thursday's incident, suggested it was police issue – and therefore had not been fired by Duggan.
• Tottenham MP David Lammy has said the riots were "a disgrace", while the Met police said the events were "absolutely unacceptable". Downing Street also used the term "absolutely unacceptable".
• Some reports are suggesting an altercation between a female and police in Tottenham may have sparked wider violence.
This blog is being wrapped up for now but will be up and running again in a few hours.
Not to be confused with 2011 United Kingdom anti-austerity protests.
2011 England riots

Firefighters douse a shop and flats destroyed by arson during the initial rioting in Tottenham, London

Date
6–11 August 2011 (although copycat incidents continued after this period)
Location
Several districts of London, Birmingham, Merseyside, Greater Manchester, Nottingham, Bristol, and several other areas[1][2]
Caused by
Escalation of events following fatal police shooting of Mark Duggan
Methods
Rioting, looting, arson, mugging, assault, murder
Resulted in
Shops, homes and vehicles destroyed
Reported fatalities and injuries
5 deaths[3][4][5]
more than 16 members of public were injured[6][7]
186 police officers, 3 police community support officers[8] as well as five police dogs injured[9][10][11]
The 2011 England riots occurred between 6 and 11 August 2011, when thousands of people rioted in several London boroughs and in cities and towns across England. The resulting chaos generated looting, arson, and mass deployment of police and resulted in the deaths of five people.
Protests started in Tottenham, London, following the death of Mark Duggan, a local man who was shot dead by police on 4 August.[12] Several violent clashes with police ensued, along with the destruction of police vehicles, a double-decker bus and many homes and businesses, thus rapidly gaining attention from the media. Overnight, looting took place in Tottenham Hale retail park and nearby Wood Green. The following days saw similar scenes in other parts of London, with the most rioting taking place in Hackney, Brixton, Walthamstow, Peckham, Enfield, Battersea, Croydon, Ealing, Barking, Woolwich, Lewisham and East Ham.
From 8 to 10 August, other towns and cities in England (including Birmingham, Coventry, Leicester, Derby, Wolverhampton, Northampton, Nottingham, West Bromwich, Bristol, Liverpool, Manchester, and Salford) saw what was described by the media as "copycat violence". Social media sites including Facebook also featured rumours of further disturbances or details surrounding known disturbances which were later proven to be inaccurate; for instance there were rumours of disturbances in the town of Dudley and at the nearby Merry Hill Shopping Centre, but no incidents in these areas were detected by police. Rumours of a hospital being targeted by rioters in Birmingham were also proven to be wrong, as were rumours of disturbances in the Heath Town district of Wolverhampton, which had witnessed a serious riot in May 1989.
By 10 August, more than 3,000 arrests had been made across England, with more than 1,000 people issued with criminal charges for various offences related to the riots.[13] Initially, courts sat for extended hours. There were a total of 3,443 crimes across London that were linked to the disorder.[14] Along with the five deaths, at least 16 others were injured[update] as a direct result of related violent acts. An estimated £200 million worth of property damage was incurred, and local economic activity – which in many cases was already struggling due to the recession – was significantly compromised.
The riots have generated significant ongoing debate among political, social and academic figures about the causes and context in which they happened. Attributions for the rioters' behaviour include such social factors such as racial tension, class tension, economic decline and the unemployment that it had brought, as well as individual factors like criminality, hooliganism, the breakdown of social morality and the development of gang culture.[1]
Police shooting of Mark Duggan[edit]
Main article: Death of Mark Duggan
On Thursday 4 August 2011, a police officer shot and killed 29-year-old Mark Duggan during an intelligence-led, targeted vehicle stop procedure on the Ferry Lane bridge next to Tottenham Hale station.[21] The Independent Police Complaints Commission (IPCC) said that the planned arrest was part of Operation Trident, which at that time investigated gun crime within the black community.[16] The incident had been referred to the IPCC,[17] which is standard practice if death or serious injury follows police contact.[22]
After the shooting, the media widely reported that a bullet was found embedded in a police radio, implying that Duggan fired on the police.[18] Friends and relatives of Duggan said that he was unarmed. The police later revealed that initial ballistics tests on the bullet recovered from the police radio indicate that it was a "very distinct" police issue hollow-point bullet.[18][23] The IPCC later stated that a loaded Bruni BBMblank-firing pistol, converted to fire live ammunition, was recovered from the scene.[24][25][26] It was wrapped in a sock and there was no evidence that it had been fired.[27]
On 13 August, the IPCC stated that Duggan did not open fire: "It seems possible that we may have verbally led journalists to [wrongly] believe that shots were exchanged". The bullet that had lodged in an officer's radio is believed to have been an overpenetration, having passed through Duggan's body.[28][29]
At lunchtime on 6 August, a meeting was called by police between local community leaders, councillors and members of police advisory groups. In this meeting, police were warned several times that there could possibly be another riot similar to the Broadwater Farm riot of 1985 if local concerns regarding the death were not addressed.[30][31]
On 8 January 2014, a jury at the Royal Courts of Justice concluded that Duggan was lawfully killed.
Protest march[edit]
On Saturday 6 August a protest was held, initially peacefully, beginning at Broadwater Farm and finishing at Tottenham police station.[32] The protest was organised by friends and relatives of Duggan to demand justice for the family.[16][33][34] The group of some 300 people demanded that a senior local police officer come out to speak to them. When Chief Inspector Ade Adelekan arrived, he was met with boos and cries of "murderer", "Uncle Tom" and "coconut".[35] The crowd stayed in front of the police station hours longer than they originally planned because they were not satisfied with the seniority of the officers available at the time. Rumours that a 16-year-old girl had sustained injuries after attacking police with a champagne bottle began circulating on social media. To date, the girl remains unidentified and the report unconfirmed. However the rumour alone was sufficient to further fuel tensions in the area.[15][36][37]
Riots[edit]
See also: Timeline of the 2011 England riots
A peaceful march on Saturday 6 August in Tottenham was followed by rioting and looting, first in Tottenham and later in Tottenham Hale Retail Park.[38] Rioting occurred shortly after about 120 people marched from the Broadwater Farm estate to Tottenham Police Station via the High Road.[39]
The spread of news and rumours about the previous evening's disturbances in Tottenham sparked riots during the night of Sunday 7 August in the London districts of Brixton, Enfield, Islington and Wood Green and in Oxford Circus in the centre of London.[38]
The morning of Monday 8 August was quiet, but by evening, areas across London were affected by widespread looting, arson and violence, with significant outbreaks in parts of Battersea, Brixton, Bromley, Camden, Croydon, Ealing, East Ham, Hackney, Harrow, Lewisham, Peckham, Stratford, Waltham Forest, Woolwich, and Wood Green. A man was found shot in Croydon, and died later in hospital. Another man who had been assaulted in Ealing died in hospital on Thursday 11 August.
Similar riots were reported outside London – notably in Birmingham, Bristol, Gloucester, Gillingham and Nottingham.[38][40]
Following a greatly increased police presence, London was quiet on Tuesday 9 August, but rioting continued in Nottingham and Birmingham (where, according to the police account, eleven shots were fired at police, including at a police helicopter, and petrol bombs thrown at officers[41]) and spread to Leicester, parts of the West Midlands and to parts of Greater Manchester and Merseyside in the north-west of England.[38] On Wednesday 10 August, London remained quiet while hundreds of arrests were being made by the police.
Three men were killed in Birmingham in a hit-and-run incident related to the disturbances. Looting and violence continued in two locations around Manchester and Liverpool.[38]
Social media[edit]
Throughout the rioting, many of the rioters failed to cover their faces. Some posed for pictures with stolen goods, posting them on social-networking sites.[42]
Although London employs CCTV cameras to monitor crime and large events, reports indicate that citizen footage contributed more to capturing looters in action than the police force.[43] Beyond the CCTV, looters were filmed and photographed with their faces visible. Police forces and investigators used websites like Flickr to find galleries of the looters to help solve and prevent cases of vandalism and further damage. Facebook pages were also created to identify looters.[44]
Several interactive maps were implemented in the Google Maps website that showed satellite views of what was happening in the streets during the rioting. James Cridland, the managing director of the free media resources, created a Google Map that tracked verified locations of rioting. Channel 4 News also had similar maps that progressively tracked the damage in the streets as well.[45] News channels also were able to utilise this public service to capture live footage on the streets and inform citizens of dangerous or crowded areas.
BlackBerry Messenger[edit]
There were reports that the BlackBerry Messenger service was used by looters to organise their activities, and that inflammatory and inaccurate accounts of Mark Duggan's killing on social media sites may have incited disturbances.[46][47][48] One of the many messages shared between users was the following:
"Everyone in edmonton enfield wood green everywhere in north link up at enfield town station at 4 o clock sharp!!!!," it began. "Start leaving ur yards n linking up with your niggas. Fuck da feds, bring your ballys and your bags trollys, cars vans, hammers the lot!!"[49]
Research in Motion assisted British police in tracking rioters who used BBM, stating, "We comply with the Regulation of Investigatory Powers Act and co-operate fully with the Home Office and UK police forces."
Increased connectivity among individuals has led to a greater ability to organise and execute massive gatherings.[51] This has not occurred only with the riots in England, but with other collective gatherings such as the Arab Spring and the Egyptian revolution of 2011.[52]
[edit]
Much like BBM, the mobility of technology shaped the London riots. During the Tottenham riots of 1985, citizens had to head into a public place to voice their message.[53] Yet, with access to Twitter as a communication medium, social media was used to rapidly spread messages of the riots.[53]
Radio 4 criticised Twitter's contribution to the riots through greed and criminality.[54]The Daily Telegraph described Twitter as being an outlet for promoting gang violence.[54] Evidence shows that Twitter is powerful because tweets of individuals were inspired by news content.[55] However, an article in Time magazine suggested BlackBerry Messenger was more to blame.[53]
During the riots, Twitter accounted for four out of every 170 UK Internet visits on Monday 8 August. In addition, citizens also used Twitter to band together, after the destruction. The aftermath of the riots resulted in a disrupted city, yet Twitter was further used to maintain peace, with hashtags including "#riotcleanup".[55] Evidence shows that people were tweeting and re-tweeting news related to the riots, not original content.[55]
Mobile phones[edit]
Other than BlackBerry Messenger and social networking sites, mobile phone operators T-Mobile and Orange prioritised police requests for information about the phones that were used to plan the riots that hit British cities. Under the Regulation of Investigatory Powers Act, phone companies were required to hand over data about the locations calls were made from, the owners of phones, and lists of calls made to and from a particular handset.
Effects[edit]
Deaths and injuries[edit]
Trevor Ellis[edit]
Trevor Ellis, a 26-year-old from Brixton Hill, died following a shooting in Croydon, South London on 8 August.[3][56][57] His family denied reports that Ellis, who had come from the Brixton area to Croydon with a group of friends, had been involved in looting.[58][59] By 16 December 2013, 13 people had been arrested in connection with the murder. All were later bailed and then released without action. On 16 December, the eve of Ellis's birthday, detectives opened up a fresh appeal into the murder, asking for witnesses to come forward. As of 2018, no one has been charged.[60]
Haroon Jahan, Shahzad Ali and Abdul Musavir[edit]
On 10 August, in Winson Green, Birmingham, three men – Haroon Jahan, 21, and brothers Shahzad Ali, 30, and Abdul Musavir, 31 – were killed in a hit-and-run incident while attempting to protect their neighbourhood from rioters and looters.[4][61][62] On 19 April 2012, a trial of eight men, each arraigned on three counts of murder, was held in the Crown Court at Birmingham before Mr Justice Flaux; the jury acquitted all of the defendants on all charges.[63]
Richard Mannington Bowes[edit]
A 68-year-old man, Richard Mannington Bowes, died on 11 August after he was attacked while attempting to stamp out a litter-bin fire in Ealing on the evening of 8 August.[64]
Bowes was attacked by members of a mob on 8 August 2011, while attempting to extinguish a fire that had been deliberately started in industrial bins on Spring Bridge Road. The attack inflicted severe head injuries which resulted in a coma. The assault was caught on CCTV and reportedly filmed on mobile phones by associates of the alleged assailant.[65] The attack on Bowes was witnessed by several police officers, but due to the number of rioters they were unable to come to his aid until riot squad officers pushed back the rioters while being attacked to reach Bowes. A line of officers then held back the rioters as paramedics arrived. Bowes's wallet and phone had been stolen, and police faced difficulty in identifying him. He died of his injuries in St Mary's Hospital on 11 August 2011 after being removed from life support.[66][67]
Many tributes were paid to Bowes, including Ealing Council, who flew the Union Flag at half-mast over its town hall and announced the launch of a relief fund in his name,[68] and London Mayor Boris Johnson, who described him as a hero.[69]
A 16-year-old male, later named as Darrell Desuze,[70] who lives in Hounslow was charged with murdering Bowes, violent disorder and four burglaries.[71][72] He appeared at CroydonMagistrates' Court on 16 August 2011, where he was remanded in custody until his appearance at the Central Criminal Court on 18 August 2011.[71] His 31-year-old mother Lavinia Desuze[73] was charged with perverting the course of justice.[71] On 12 March 2012 at the Crown Court at Inner London, Darrel Desuze pleaded guilty to manslaughter, after previously pleading guilty to burglary and violent disorder.[74] The following day the Crown withdrew the murder charge against him.[75] After a trial at the Crown Court at Inner London before Mr Justice Saunders and a jury, Lavinia Desuze was convicted of perverting the course of justice after she destroyed the clothing her son wore on the day of the death.[76] On 17 April 2012, Mr Justice Saunders sentenced Darrell Desuze to detention for a term of eight years, and Lavinia Desuze to imprisonment for eighteen months.[77]
Injuries[edit]
In London, between Monday afternoon and the early hours of Tuesday, 14 people were injured by rioters. These included a 75-year-old woman who suffered a broken hip in Hackney.[6]
In Barking, East London, 20-year-old Malaysian student Ashraf Rossli was beaten and then robbed twice by looters emptying his rucksack. Footage of the second mugging, which appears to show the second set of muggers pretend to help him then proceed to ransack his rucksack, was uploaded onto YouTube. He suffered a broken jaw, requiring surgery.[7][78] On 2 March 2012, two men, John Kafunda of Ilford and Reece Donovan of Romford, were found guilty of the robbery of Rossli and also violent disorder by a jury at Wood Green Crown Court.[79] The sentences were quashed by the Court of Appeal on 29 November 2012.[80]
In Chingford, East London, three police officers were hit by a car used as a getaway vehicle by a group who looted the Aristocrat store on Chingford Mount Road. Two of the officers were seriously injured and taken to hospital.[81]
In total, 186 police officers were injured[9] as well as 3 Police Community Support Officers.[8] Five police dogs were also reported injured.[82]
Ten firefighters were injured as the London Fire Brigade dealt with over 100 serious fires caused by the disturbances. The LFB also reported that eight of its fire engines had their windscreens smashed and that two fire cars were attacked.[83]
Property and business damage[edit]
Vehicles, homes and shops were attacked and set alight. At least 100 homes were destroyed in the arson and looting.[84] Shopkeepers estimated the damages in their Tottenham Hale and Tottenham branches at several million pounds.[85] The riots caused the irretrievable loss of heritage architecture.[86] It was estimated that retailers lost at least 30,000 trading hours.[87]
The Association of British Insurers said they expect the industry to pay out in excess of £200 million.[88] Estimated losses in London were indicated to be in the region of £100m.[89]
On 8 August 2011, a Sony DADC warehouse in Enfield at Enfield Lock, which also acted as the primary distribution centre for independent music distributor PIAS Entertainment Group, was destroyed by fire.[90][91] Initially, because millions of items of stock were lost, including most of PIAS's inventory, it was thought that long-term damage to the British independent music industry might result.[95] On 18 August 2011, PIAS confirmed that their operations were back to normal.[96] On 11 August 2011, London police reported that they had arrested three teenagers in connection with the warehouse fire.[97]
The Financial Times reported that an analysis showed that 48,000 local businesses – shops, restaurants, pubs and clubs – had suffered financial losses as a result of the looting and rioting in English streets.[98]
Personal attacks and thefts[edit]
A 15-year-old was accused in August 2011 of raping a 13-year-old girl while the riots were taking place. The prosecution described the incident as being geographically "close" to the riots.[99]
Twenty-year-old student Ashraf Haziq was attacked while cycling along Queen's Road in Barking. The prosecution said that the victim was punched in the face by one of a group of 100 youths. His bike, PlayStation Portable and mobile phone were stolen.[99] In September 2011, an accusation of robbery was made against 24-year-old Reece Donovan. The same month, a 17-year-old was accused in court of breaking the victim's jaw with an unprovoked punch.[100] In February 2012 John Kafunda and Reece Donovan were convicted of stealing from Rossli, after being identified on camera pretending to help him.[101]
Transport[edit]
Four London buses were set on fire during the riots, and other buses were defaced with broken windows and other minor damage.
On 9 August, Croydon's Tramlink was partly shut down due to damage inflicted along its route.[102]Transport for London, London Overground and London Underground shut Barking, Peckham Rye and Harrow-on-the-Hill and Hackney Central stations. The train operating company Southern later announced that trains were not stopping at many stations in south London.[102]National Express Coaches stopped serving Wolverhampton and suburban stops in the Birmingham area (but not Birmingham Coach Station itself) and Manchester (but not Manchester Airport).[103]
Sporting fixtures[edit]
Five Football League Cup games due to be played on 9 and 10 August were postponed after requests from police due to the riots. The games at Bristol City, Bristol Rovers, Charlton Athletic, Crystal Palace and West Ham United were all postponed, as they were all situated within a short distance of areas which had seen some of the worst disturbances.[104][105][106] There was also uncertainty as to the Third Test cricket match between India and England, at Edgbaston in Birmingham, but the match was played.[107][108]
The international footballfriendly match between England and the Netherlands at Wembley Stadium due to take place on 10 August was cancelled,[105] as well as the international friendly between Ghana and Nigeria scheduled for 9 August at Vicarage Road, Watford.[109][110]
Tottenham Hotspur's opening game of the 2011–12 Premier League season against Everton on 13 August was postponed.[111][112] The League Two game between Cheltenham Town and Swindon Town, due to be played the same day, was also initially postponed until further consultation allowed Gloucestershire Police to provide the required resources.[113]
Reactions[edit]
See also: Timeline of aftermath of 2011 England riots
Political[edit]
Following the initial disorder in Tottenham, the constituencyLabour MP David Lammy appealed for calm, saying that "true justice can only follow a thorough investigation of the facts"[114] and that Tottenham had had its "heart ripped out" by the riots.[115] He said that rioters were not representative of the local community as a whole[116] and insisted that the Independent Police Complaints Commission must fully establish the circumstances of Mark Duggan's death.[117] Lammy voiced concerns that the EDL and BNP were playing on the London riots and people's fears to advance their political motives.[118]
Streatham's Labour MP Chuka Umunna condemned the violence in Brixton and Tottenham.[119][120][121] Umunna called for the BlackBerry Messenger service, used by some of the rioters to co-ordinate their activities, to be "temporarily disabled" between 6 pm and 6 am BST.[122]
The use of BlackBerry Messenger has led to arrests – a Colchester man was detained under the Serious Crimes Act for organising a water-fight through the service.[123]
John Randall, the Conservative MP for Uxbridge and South Ruislip said: "It's a small minority of people causing the trouble. The events in Ealing brought it home, it's just down the Uxbridge Road."[124]Hackney North and Stoke Newington MP Diane Abbott called for the introduction of a curfew.
Newark MP ColonelPatrick Mercer called for the deployment of water cannon.[125] In December 2010 Theresa May, the Home Secretary, had said that the deployment of water cannon by police forces on the British mainland was an operational decision which had been "resisted until now by senior police officers."[126] On 9 August 2011, May rejected their use and said: "The way we police in Britain is not through use of water cannon. The way we police in Britain is through consent of communities." Ken Livingstone, the former London mayor, said "The issue of water cannon would be very useful given the level of arson we are seeing here." Scotland Yard said officers did not have any water cannon and if their use was approved they would have to be brought over from Northern Ireland.[127]
May said: "I condemn utterly the violence in Tottenham... Such disregard for public safety and property will not be tolerated, and the Metropolitan Police have my full support in restoring order."[128] She returned to the UK from holiday early to meet senior police officials on 8 August.
A spokesman for the Prime Minister's office added: "The rioting in Tottenham last night was utterly unacceptable. There is no justification for the aggression the police and the public faced, or for the damage to property."[128]
The deputy prime ministerNick Clegg said that the riots were "completely unacceptable" and described the rioters as "needless and opportunistic".[129][130]
London's mayor, Boris Johnson, who cut short a holiday in Canada to return to the UK on 9 August, said: "I'm appalled at the scenes of violence and destruction in Tottenham"[116] whilst his deputy Kit Malthouse told a Sky News reporter that "criminal elements were to blame for the trouble."[116]
Prime Minister David Cameron condemned the "terrible scenes of people looting, vandalising, thieving, robbing" and told rioters "You will feel the full force of the law. And if you are old enough to commit these crimes, you are old enough to face the punishment."[131]
Croydon Central MP Gavin Barwell called the damage caused in the London Borough of Croydon "sickening".[132]
In a strongly worded criticism of what he deems to be a misplaced "hyper-sensitivity about race", dating back to the Macpherson Report of 1999, Civitas director David Green attributed the reluctance by police to use force to a fear of disciplinary action. He said that "officers in charge of a riot think it safer to wait for orders from the top".[133]
In a public speech on 15 August, David Cameron blamed a "broken society" in "moral collapse"[134] – broad societal change themes common to his party's election campaign theme Broken Britain.
The city councils of Manchester and Salford are reported to be investigating their powers for ways of evicting tenants if they, or their children, have been involved in violence or looting in their cities.[135] The London Borough of Greenwich also stated on its website: "We shall seek the eviction of anyone living in council property if they are found to have been engaged in criminal acts."[136]
International[edit]
Several countries issued warnings advising caution to travellers visiting the United Kingdom during the riots.[137]
German far-left activists suggested using the riots as a role model to be applied to their political activities in Germany as well.[138]
Ferry Lane, Tottenham Hale, location of the shooting
A firefighter douses a blaze in Tottenham during the aftermath of the initial riot
Rioters facing police on the evening of 6 August 2011
Rioters attempt to loot from a cycle shop in Chalk Farm, Camden
Bank workers in Walthamstow observe the destruction which was caused in the early hours of the morning
Stand-off between rioters and police in Croydon
A shop in Tottenham Hale Retail park after the looting
A burnt-out building being doused with water. Built for the London Co-operative Society in 1930 as Union Point, the building included a Carpetright on the ground floor and many flats on the upper storeys.
Floral tributes at the site of the fatal assault. The flowers at the top spell out the word "why".
A burnt-out and vandalised car in Hackney with misspelt graffiti. Arsonists set fire to 12 cars during the riots.
Double-decker bus burning in Tottenham during the 2011 England riots, in which arsonists set fire to 4 buses.
Cash Converters shop in Salford
"Keep Calm and Candy On" graffiti on boards covering the windows of the Cyber Candy store in Upper Bull Street, Birmingham, smashed in the riots