Being A High School Student Essay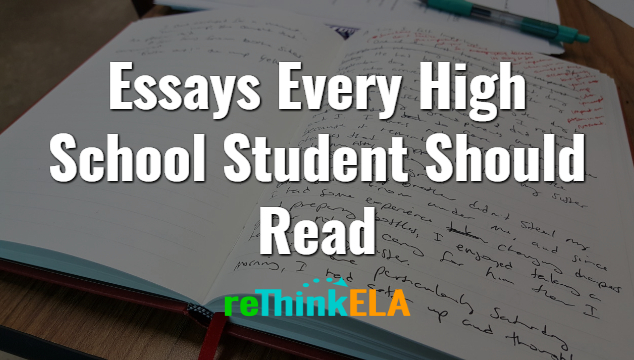 One of the most important goals of any English class should be to help students learn how to express themselves to an audience — how to tell their own stories, how to provide much-needed information, and how to convince others to see things from a different perspective.
Below are some essays students can read, not only to help them see how such writing is done in the real world, but also to learn more about the world around them.
Need a #mentortext for student essays? Check out these exemplars for personal narrative, argumentative, and expository essay writing. Click To Tweet
Note: This is a living list. I will continue adding to it as I find important essays and articles, and as my readers make suggestions.
If You Think Racism Doesn't Exist by Jordan Womack | Lesson Plan
A 17-year-old Oklahoma author details incidents of discrimination he has faced within his own community. Brief, yet impactful, the author's authenticity strikes readers at their core and naturally leads the audience to consider other perspectives.
Letter from a Vietnamese to an Iraqi Refugee by Andrew Lam
Vietnamese lecturer, journalist, and author Andrew Lam offers advice in this letter to a young Iraqi refugee he sees in a photograph on the Internet.
Allowing Teenage Boys to Love Their Friends by Jan Hoffman
Learn why early and lifelong friendships are as vital for boys as they are for girls and what happens when those friendships are fractured.
Chris Cecil: Plagiarism Gets You Fired by Leonard Pitts Jr
The Miami Herald columnist and 2004 Pulitzer Prize for Commentary winner castigates a Georgia newspaper editor for plagiarizing his work. This column would go great with this followup article from The Boston Globe: Ga. Editor is Fired for Lifting Columns.
Class Dismissed by Walter Kirn
The author of Lost in the Meritocracy postulates that getting rid of the high school senior year might be good for students.
Complaint Box | Packaging by Dylan Quinn
A high school junior complains about the impossible-to-open packaging faced by consumers of everything "from action figures to zip drives."
Drowning in Dishes, but Finding a Home by Danial Adkison
In this 2014 essay, a teenager learns important lessons from his boss at Pizza Hut.
How to Tame a Wild Tongue by Gloria Anzaldua
An American scholar of Chicana cultural theory discusses how she maintained her identity by refusing to submit to linguistic terrorism. 
Humble Beast: Samaje Perine by John Rohde
The five-time Oklahoma Sportswriter of the Year features the University of Oklahoma's running back.
In Praise of the F Word by Mary Sherry
An adult literacy program teacher argues that allowing students to fail will actually help them.
The Joy of Reading and Writing: Superman and Me by Sherman Alexie
A Native American novelist recounts his experience loving reading and finally writing in spite of a culture that expected him to fail in the "non-Indian world" in order to be accepted.
Lane's Legacy: One Final Ride by Keith Ryan Cartwright
A heartbreaking look back at the hours before and the circumstances surrounding Lane Frost's untimely death, followed by reflections on his rise to fame — before and after death.
Learning to Read by Malcolm X
The 1960s Civil Rights leader writes about how educating himself in prison opened his mind and lead him to become one of the leading spokesmen for black separatism.
Learning to Read and Write by Frederick Douglass
A former slave born in 1818 discusses how he learned to read in spite of laws against teaching slaves and how reading opened his eyes to his "wretched condition, without remedy."
Learning From Animal Friendships by Erica Goode
Scientists consider studying the phenomenon of cross-species animal friendships like the ones you see on YouTube.
Losing Everything, Except What Really Matters by Dan Barry
After a 2011 tornado destroys a house, but spares the family, a reporter writes about what's important.
The Marked Woman by David Grann
How an Osage Indian family in Oklahoma became the prime target of one of the most sinister crimes in American history.
Meet Mikey, 8: U.S. Has Him on Watch List by Lizette Alvarez
Read about what happens if you happen to share a name of a "suspicious person" on the U.S. No-Fly List.
Newly Homeless in Japan Re-Establish Order Amid Chaos by Michael Wines
After the tsunami that resulted in nuclear disaster in 2011, a reporter writes about the "quiet bravery in the face of tragedy" of the Japanese people.
No Ordinary Joe by Rick Reilly
Why in creation did American Football Conference's 1981 best young running back Joe Delaney jump into that pit full of water that day, even though he couldn't swim?
Politics and the English Language By George Orwell
Animal Farm and 1984 author, Orwell correlates the degradation of the English language into multi-syllabic drivel and the corruption of the American political process.
Serving in Florida by Barbara Ehrenreich
The Nickel and Dimed: On (Not) Getting By in America author tells about her experiences attempting to survive on income of low-paying jobs.
Starvation Under the Orange Trees by John Steinbeck
John Steinbeck, who later authored the fictionalized account of Okies in California, The Grapes of Wrath, first wrote this essay documenting the starvation of migrant workers in California during the Great Depression.
To Fall in Love With Anyone, Do This by Mandy Len Catron
Is falling in love really a random event, or can two people "love smarter?"
We'll Go Forward from this Moment by Leonard Pitts
The 2004 Pulitzer Prize for Commentary winner pens a column chronicling the toughness of the American family's spirit in the face of the September 11, 2001 World Trade Center attacks. He wrote the column one day after the attacks.
What's Wrong with Black English? by Rachel L. Jones
Jones, a student at Southern Illinois University in the 1980s, wrote this piece for Newsweek. In her essay, Jones adds her story and perspective to the debate over Black English.
Why the Best Kids Books Are Written in Blood by Sherman Alexie
Alexie speaks on the importance of Young Adult literature in the lives of students struggling to survive abuse, racism, poverty, depression, gang warfare, negligent parents, drugs, and poverty.
Explore highly relevant issues & practice reading comprehension through short essays written for authentic audiences. #litchat Click To Tweet
I am a secondary English Language Arts teacher, a University of Oklahoma graduate student, and a NBPTS candidate. I am constantly seeking ways to amplify my students' voices and choices.
Filed Under: PedagogyTagged With: Model Essays
Luke Kenworthy, 17, was nervous on Ivy Day — the last Thursday in March, when all eight schools drop their admissions decisions.
He had already received a rejection from the Massachusetts Institute of Technology, was wait-listed by the University of Chicago and Carnegie Mellon University, and was deferred at Harvard University after applying early.
"I legitimately was convinced I wasn't going to get into any Ivy League schools," Kenworthy told Business Insider.
But his incredulity turned to shock and then excitement as he opened his decision letters and saw he'd been accepted nearly all of them — Harvard, Princeton, Brown, Cornell, Columbia, Dartmouth, and the University of Pennsylvania. He also received a wait-list spot from Yale.
The Ivy League is notoriously hard to get into, as the hundreds of thousands of other applicants to the eight elite schools are well aware. At Harvard, 5.2% of the nearly 40,000 applicants — about 2,000 — were accepted this year.
These schools look for the right mix of academic achievement and participation in extracurricular activities. Kenworthy, a senior at Mercer Island High School, near Seattle, has taken all the advanced-placement courses available at his school. (He favors his physics and comparative government AP coursework.) He also is heavily involved in student government and has taken mission trips to Serbia, Turkey, and Guatemala.
For Kenworthy, nailing his admissions essay was also important. After he was deferred from early action at Harvard, he felt compelled to change his essay topic. He worked with a mentor at CollegeVine— a junior at Duke University majoring in biochemical engineering — to improve his essay.
Kenworthy chose to write about a deeply personal childhood experience.
"To write an essay like that was a little bit weird for me, but also was very important to me, too," Kenworthy said. "The events that happened in my life very much shaped who I am."
Kenworthy graciously shared his Common Application admissions essay with Business Insider. It's reprinted verbatim below.
"The soft thumping of my dad's heart provided a small degree of solace as I cried with my head on his chest. I was in fifth grade. He had just told me that my mom, having been attacked by her boyfriend, was in the hospital. I remember being surprised with myself, surprised that I would be sad after all she had done. This was the same person who, when I was eight, threw a drunken party at our house for teens younger than I am now. This was the same person who would disappear after spending nights at the bar, the person who went to jail for trying to strangle my dad in an inebriated stupor. She had not been a part of my life for over a year since my dad received sole custody; I thought I had closure, that I was ready to move on. Yet, hot tears still ran down my cheek as I imagined her swollen face and the bruises on her arms.
"I had always been shy as a kid and the absence of my mom exacerbated this problem as I tried to unhealthily suppress my insecurities and fill her absence with others' approval. In sixth grade, I constantly sought the attention of a group of kids who, in turn, bullied me. Consequently, when I switched schools going into seventh grade, I was shy and timid, afraid to engage with new people. I pictured myself near the bottom of a rigid social hierarchy. The next year, I started to branch out more, but inside, I remained obsessed with how others perceived me.
"Entering high school, I would spend hours at a time thinking about my insecurity and talking through memories of my mom with my dad. During this time, I would always remember how I had stared numbly into the ripples of my dad's shirt as a fifth grader. I could never forget that feeling of helplessness, but with repeated reflection, I began to understand this moment in a different way. Given her circumstances — raised by an abusive, alcoholic father and a neglectful mother; involved in several dysfunctional relationships with controlling men; drinking to numb the injustices of life, but then realizing it was too late to stop — I have no way of knowing if my life would be any different from hers.
"For the first time, I began to understand an idea that has since granted me freedom: I cannot walk in my mom's shoes, and thus, no one else can truly walk in mine. The way others perceive me is inherently inaccurate, so I do not need to concern myself with what others think. This realization provided me the freedom to become untethered from the approval of others, finally at ease with myself.
"I started to open up. Throughout high school, I began talking to others about ideas that fascinated me, like space travel and philosophy, rather than frantically searching for common ground. I quit football, realizing that I largely participated for the status it brought me, and joined cross country, because I genuinely enjoy running. I started holding the door open for my classmates almost every morning, greeting them as they arrived at school, hoping to brighten their day. I became engaged in my role on student council, which paid off when I was elected student body president. Even then, it wasn't the role itself that I found meaningful, but the way I could use it to help others. The basis of my friendships shifted from validation seeking to mutual, genuine respect.
"As I listened to my dad's heartbeat that night, my mind filled with anger and sorrow. However, in hindsight, I am thankful for the lessons I learned from my mother; the pain I felt was a necessary step in the process of becoming the person I am today, someone who is unafraid to express himself."
If you have something to share about your college-admissions experience, email ajackson@businessinsider.com.